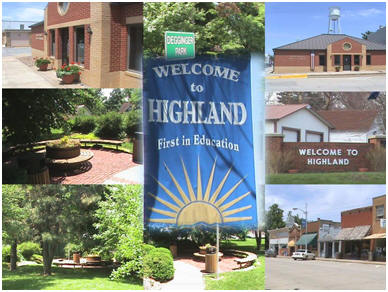 Highland extends a warm welcome to all that come to our city, with the sincere hope that you will find our community a good place to live and to visit. Here you will find all the advantages of a small town community: friendly neighbors, peaceful atmosphere, relaxed pace,and security. However, a drive of between 30 to 90 minutes will take you to the hustle and bustle of city life in St. Joseph, Missouri; Kansas City, Kansas or Missouri; Topeka, Kansas; Falls City, Nebraska or a 15 to 30 minute drive will take you to nearby towns of Hiawatha, Kansas and Atchison, Kansas.

If needing to fly, Kansas City International Airport is just a little over an hour drive. If needing an overnight stay, lodging can be found in Hiawatha, KS, Atchison, KS, or St. Joseph, MO. If needing information, contact the city clerk at 785.442.3765 between 8:00 a.m. to 4:00 p.m. during the week.

The mayor and a five-member council govern Highland, with a population of around 1,000 which increases 500 - 600 students which are enrolled at Highland Community College during the fall and spring semesters. The town of Highland not only has the college, but also has an excellent K-12 public school system.